About us
Hello dear Rabbitfeet fans, nice to meet you!
Our website not only sells low-priced products, but also mystery boxes.
You can understand that we have a lot of warehouses in Europe with a lot of inventory. Most of these goods are supplied to online platforms such as Amazon and Ebay or offline supermarkets such as Walmart. The price of these products in our warehouse is much lower than what you buy in the market. So, you can often visit our website, buy the products you need.
If you are in
Spain
, you can buy items from
Spanish warehouses and German warehouses.
If you are in
Germany
, you can buy items from
Spanish warehouses and German warehouses
.
If you are in the
UK
, you can only buy items from
UK warehouses.
Of course, the
mystery box
is available to anyone from all over the region. In fact, it's packed from our warehouse collection. So the contents of a mystery box are worth far more than the price. Our purpose is to give you the highest value in our power. You will not be disappointed with the purchase of the Mystery box. I hope every box brings you good luck!
How are prices so low?
Rabbitfeet is a product discovery platform. Our sold products are all from Amazon, ebay, Walmart and other warehouse. Our price is lower than other types of platform market. Our Mystery Box is worth more than it's being sold for. Mystery is a big part of the experience you never know exactly what you'll get, only that you're guaranteed to get more than what you actually paid. Because of the way our platform works, we can offer groundbreaking low prices to all members, where the price you pay for top-tier items can be up to 99% less than you'd pay anywhere else.
What was in the box and what did it cost?
Our products are sourced from all over the world. You may see the same products on Amazon, ebay, AliExpress and other platforms, because our overseas warehouses also supply the same products to various platforms. We give back to our fans in the form of mysterious boxes with low prices.
The general categories are household, clothing, footwear, daily necessities, toys, hardware and so on.
The items were randomly grouped. It is guaranteed that the surprise box contains more value than you pay for the box.
What are the differences in mystery boxes?
Each box has a different price, the corresponding product value and product quantity will be different, beginners can try from the box of €19.99 or €29.99, many loyal fans will regularly buy back the box of €49.99 and €99.99, the value and happiness will be more, no matter which box, remember to make a wish in the note!
Also on ebay and Amazon, the offers of surprise boxes with various contents, they are expensive and have bad reviews. Here you can get a higher value box!
Let yourself be surprised!Of course, it's the case that you don't necessarily need all things – but "having is better than needing", right?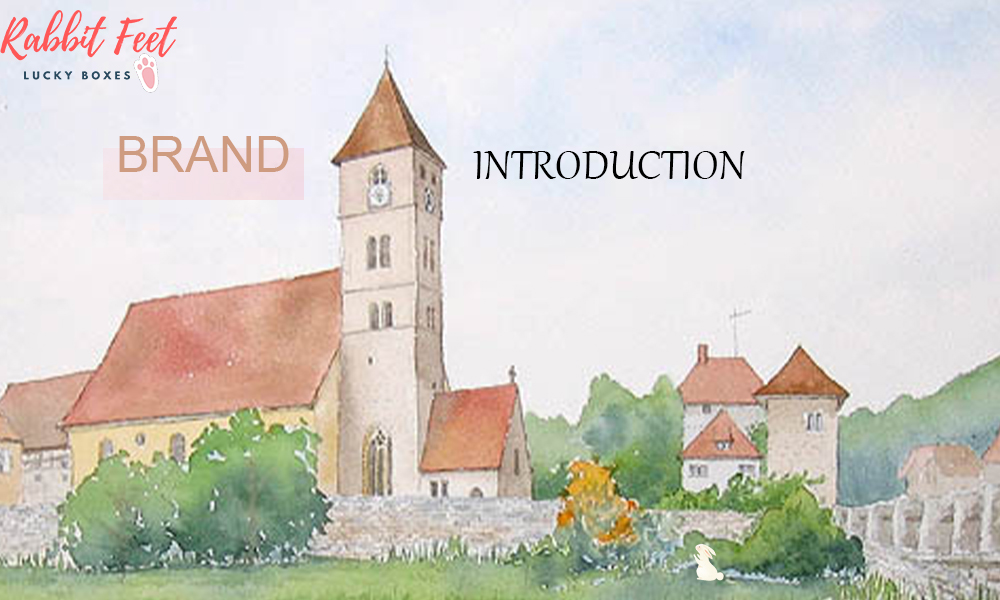 Brand Introduction:

Brand slogan: Be tolerant to diversity,Search for valuable products from all over the world.
Brand mission: keep abreast with the world tendency. Continue to innovate to meet customer needs.
Brand Vision: To create a mysterious fantasy world.
Brand Core value: Connect the world in mysterious and new ways.

Company Introduction:

RABBIT FEET is an international e-commerce company. Our company mainly focuses on creating different series of mystery boxes, but also provides fashion items such as men's fashion, women's fashion, accessories, shoes, bags, and electronic products., etc. RabbitFeet mainly aims at the market of Europe, the United States, Australia, and the Middle East. Our brand was established in 1999 and has been adhering to the concept of "Experience the charm of world". Our business covers more than 60 countries and regions worldwide.

Inspiration source of the brand foundation:

Katherine is the daughter of the owner of a glass workshop in Germany. She has an ebullient and yearning for freedom since childhood. As the only daughter in the family, her father Matteo is very fond of her. She has grew up in the countryside, and saw bright fire in the kitchen,white storks in the sky, and rabbits in the jungle. But she has always had a dream in her heart to travel around the world and explore new things. So Katherine decided to take her luggage and started traveling around the world when she was 18 years old. Although Matteo doesn't want Katherine to leave, he still supported his daughter's dream and put on a rabbit feet-necklace for her daughter before leaving. In response to the old European proverb "You've got a rabbit's foot To keep away de hoo-doo."
During Katherine's travels around the world, she has seen the lights raised by the Statue of Liberty, the galloping elephants on the savannah, and the snow above the Himalayas. Since Katherine grew up in a workshop, although yearns for freedom, she still has a great interest in goods and crafts from all over the world. She has seen the filigree inlay technology spread from ancient times and the latest 3D printing technology. She has experienced the efficiency of Japanese refined production, and the joyful atmosphere of Canadian craftsmen; Also she has experienced the greatness of industry and the romance of handicraft.
After many years of travel, Katherine returned to her hometown after learning that her father was seriously ill. After her father passed away, Katherine faced many difficulties. But she overcame the difficulties with her courage and the care of her family. Years of traveling experience have matured her mind, she wants to become a brave and kind person like her father. Due to her previous travel experiences,Katherine has made many good friends in various countries and regions , and has maintained good relations with them till now. Therefore, she hopes to set up a website dedicated to searching for products from all over the world, so that those who can't go out of their hometown can also buy novel things from all over the world and broaden their horizons. Katherine used the rabbit feet that her father gave her before her trip as the website brand's name to honor her father and also hope to share this luck with more people.

Why choose us?


Supply chain- Our products- Different from the traditional e-commerce model,our relationship with suppliers is more like a friend helping each other. Our products come from all over the world,our founder Katherine has made many good friends in various countries and regions during her travels around the world, and has maintained good relations with them till now. Therefore,we can get the lowest price and provide the best quality assurance.
Transportation-Our transportation-Our brand has a strong influence in Europe market and also has great distribution advantages. We have long-term good relationship with warehouses and logistics suppliers. Accordingly, we can provide the lowest cost and the fastest logistics speed to our customer.
Marketing-Our brand has been established for more than 5 years so far,serving tens of thousands of customers. Customer recognition is the mainstay quality assurance for us.